All-New 2020 Toyota Corolla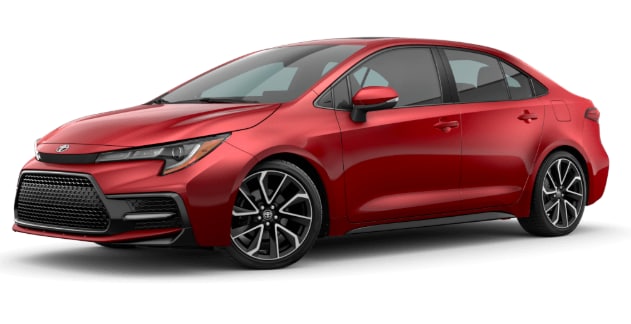 Toyota comes in at full force in 2020 with the all-new Corolla. From it's slick, classy design to its peak hybrid performance, the Corolla isn't something you want to pass up. Whether it's a Corolla or a Camry, Toyota knows how to take performance to the next level. Read below to learn the special features and qualities of the new 2020 Toyota Corolla.
Special Features & Benefits
Hybrid Performance: Don't be afraid to explore and take long road trips with the Corolla. The Corolla allows for a smooth ride, without the hassle. You can truly go the distance with its hybrid performance.

Design: A sleek and narrow, the streamlined design creates the Corolla to look more polished off than ever. The premium interior includes heated seats and a luxurious set-up like never before, allowing the passenger to see the road in a whole new way.

High-Tech: Standard Car Play on an 8-inch touch screen allows you to be hands-free and eyes-free while you drive. Select music, directions, and make calls as safely and easily as possible with all of the high-tech capabilities Corolla has to offer. You can easily connect your Apple Watch and Amazon Alexa, as well!

Safety: It has the security you need. Back up cameras, adaptive lighting, star safety systems, and more are just some of the basic safety features that are included.

Fun: Not many new cars on the market can simply claim that they're fun, like the Corolla. Take a spin with 169 horsepower and 6-speed Intelligent Manual Transmission. Paddle Shifters are available for certain models, creating a faster gear shift and makes for an interesting ride. If that's not enough fun, try out the rev-matching feature that helps you reduce transmission.
Expand your horizons and take a spin in a 2020 Toyota Corolla. From leasing to pre-owned, find a Toyota dealer near you! Check out our website for more information on other Toyota vehicles, like the Tacoma, Tundra, and RAV4! Find the right vehicle for you! For all questions or inquiries, contact Greentree Toyota at 888-458-0275 or email for assistance today. Here at Greentree Toyota we're serving drivers in New Milford CT, Westport CT, Carmel NY, and Carmel Hamlet NY with all of their automotive needs. Whether a new or used car is in order or a little maintenance is required, visit us at 87 Federal Road Danbury, Connecticut and we'd be happy to help you, to visit our website at www.greentreetoyota.com. Join the family today!