Toyota's are known for their durability and sleek design, and if you're a Toyota fan, you're going to love the all-new Toyota RAV4. With an updated exterior, refined interior, and numerous model options, the new RAV4 has all of the adventure and style you could ever want.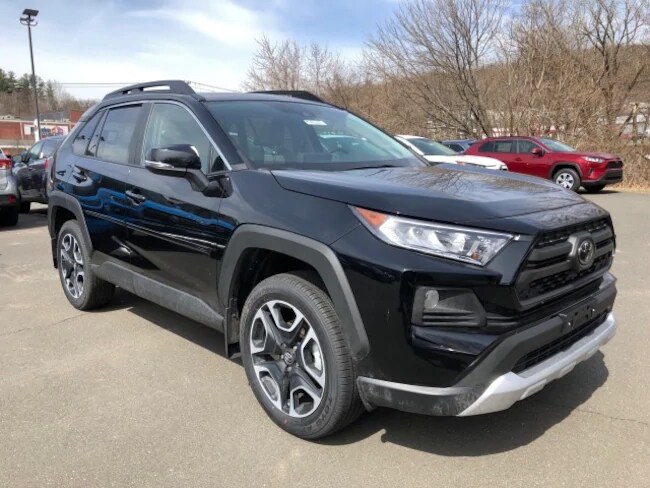 Image source: Greentree Toyota
Specs (RAV4 LE)
MPG: 26 city/35 highway
FWD
2.5L 4-Cyl.
Features
Performance is one of the biggest selling points with any Toyota vehicle, but the new RAV4 takes it to the next level. The direct shift 8-speed electronically controlled automatic transmission allows the RAV4 to shift smoothly and efficiently, with great acceleration all the way up to highway speeds. Not only will you have a smooth ride, but you can also change the driving mode to fit your mood. With three choices to pick from, you now have the ability to synchronize your personality with vehicle performance.
"Capability" is a word that is always associated with the Toyota brand. Kick your weekend adventures into high gear with Dynamic Torque Vectoring all-wheel drive. This feature improves responsiveness and stability by sending up to 50% of the vehicle's power to the rear, then distributing that power to whichever wheel needs it most. Along with an improved feeling of safety from this smart technology, you also receive Multi-terrain Select options with all-wheel-drive gas models. This gives you the power to choose between normal, snow, rock and dirt, or mud and sand options for improved traction on any driving surface.
Inspired by its off-road heritage, the style of the RAV4 is full of personality. With a redesigned exterior and new, luxury interior, the RAV4 has everything you need for comfortable and eye-catching journeys. The new models are designed with an extended wheelbase, giving it a wider stance. The flared fenders and sharp edges give it a sleek but tough look, and it comes complete with modern two-tone paint schemes. The adventure grade option pays homage to Toyota's roots, complemented by a rugged exterior that echoes its power. The inside is no different, with a panoramic glass roof option available, premium materials used, and attention to detail in every corner.
If you're looking to enhance your adventures with a new ride, the all-new Toyota RAV4 has you covered. Interested in viewing or test driving a 2019 Toyota RAV4? Visit Greentree Toyota or give us a call at 203-730-4040. New inventory can also be viewed here.
References
https://www.toyota.com/rav4/rav4-features